MS Business Analytics Online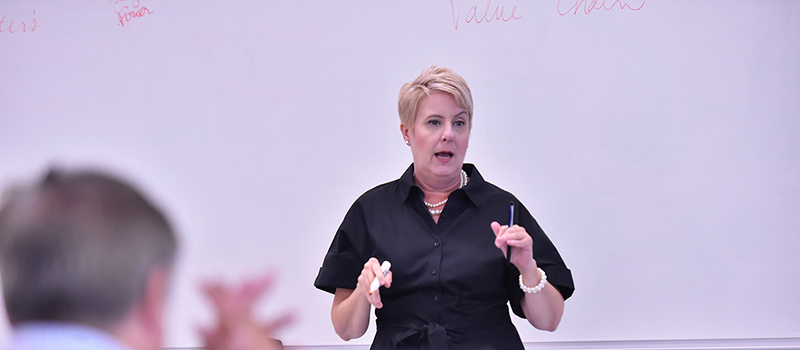 Get started on your Journey
The School of Business and Leadership (SBL) offers an online Master of Science Degree in Business Analytics that relies heavily upon the theory and applications of computer programming, economics, finance, information management, marketing, statistics and operations research to integrate business strategy with various aspects of data science. It is through the integration of these disciplines that students acquire the necessary skill sets to enable them to engage in optimal business decision making by employing rigorous analysis of complex data from both the public and private sectors.
This program provides students with a level of analytical insight into the economic behaviors of individuals and organizations, which enhances the business' reach in terms of strategy, marketing and positioning. The program features a strong curriculum that emphasizes theory, application, financial modeling and trends in financial data analytics.
Students completing the program will have acquired essential data-analytic skills for conducting advanced-level analysis and interpretation of data that is generated by various sectors of the economy.
Program Goals
Provide professionals with advanced level skills in management science, econometrics, data analysis and business optimization
Provide graduates with an understanding of both theory and applications of advanced data analytics that are being employed across various organizations in both the public and private sectors
Provide students with knowledge of business information systems
Program Delivery
The 30-credit hour program consists of 10 online courses. The program can be completed in less than two years for students attending classes during the fall, spring and summer semesters.
Master of Science in Business Analytics degree plan and course descriptions
Courses
The following are the courses that make up the MS in Business Analytics degree program:
Mathematics for Finance and Business Analytics
Marketing Analytics
Data Analytics with Python
Optimal Pricing and New Product Decisions
Data Science and Machine Learning
Data Analytics and Finance
Microeconomics with Econometric Applications
Database Management Systems
Capstone Course in Business Analytics
Dashboards, Scorecards and Visualizations
Faculty
Students will be instructed by faculty members who posses extensive knowledge in industry, teaching and scholarship. Such experiences allow faculty members to expose students to real-world applications of the course content. The business faculty also represent various countries, which adds to the enhanced academic inquiry from a global perspective.
Leveling Courses
Students with non-business degrees and students with business degrees who received their degrees more than five years prior to the application deadline are required to take the following leveling courses:
Business Math and Statistics
Operations Management
Principles of Marketing
The leveling courses can be waived for the following groups:
Business majors who graduated less than five years ago
Non-business majors who graduated with less than five years ago and passed a related course with a B or better grade
At least one year of experience in a relevant position (e.g., one year of experience in a marketing-related position is enough to waive the "Principles of Marketing" leveling course).
Admission Requirements