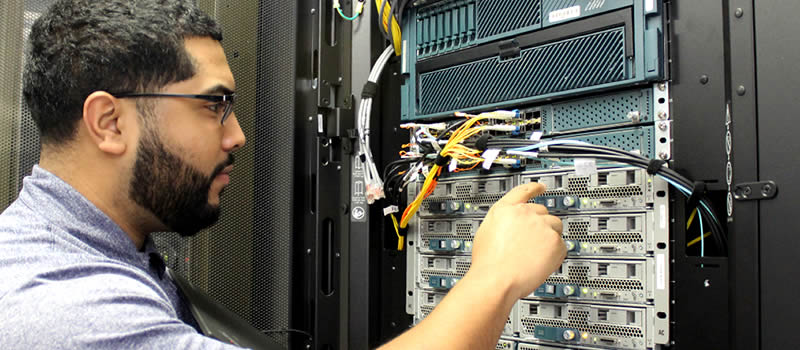 Get started on your Journey
The online Master of Science degree in Cybersecurity at Our Lady of the Lake University prepares students for multiple industry certifications and professional technical management roles requiring advanced credentials. The program has an applied focus, emphasizing learning concepts and skills that students can put to use right away in their current jobs.
National Designation
OLLU has been designated as a National Center of Academic Excellence in Cyber Defense Education (CAE-CDE) by the National Security Agency (NSA) and the Department of Homeland Security (DHS). It is part of an elite group of colleges and universities nationwide to receive the designation.
Accreditation
This program is accredited by the Accreditation Council for Business Schools and Programs (ACBSP). ACBSP is a leading specialized accreditation association for business education, supporting, celebrating and rewarding excellence on a diverse global scale.
Available Programs
Program Delivery
Our program strives to offer a flexible experience that works for your schedule by offering:
A fully online program with no synchronized times that the entire class needs to be online at the same time.
Unsequenced courses, allowing for greater flexibility in choosing which courses to take and when to take them.
Small classes allowing faculty members to know each students' strengths, challenges and interests.
Only 30 credit hours (10 courses). Full-time students can complete the degree in as few as 12 months or choose their own pace.
Certification Preparation
Coursework in the Cybersecurity program covers the knowledge domains of major cybersecurity certifications, such as CompTIA® Security+ and ISC2® CISSP.
By completing the program, students have the foundational knowledge to pursue these and other certifications.
Foundation Course
Our foundation course allows students without an IT-related undergraduate degree to join the program. If admitted, students will take a six-credit hour foundation course designed to provide the necessary foundations to succeed in the graduate program.
Center for Cyber Leadership
Students in OLLU's CISS program have access to the University's Center for Cyber Leadership (CCL) . The center provides information about events, competitions, industry standards, news and other available resources and opportunities.
CyberSaints
Cybersecurity students at OLLU have the opportunity to join the CyberSaints student organization. Becoming a member of the CyberSaints allows for students to network with industry professionals, participate in regional and national competitions, keep up to date on industry trends, and explore leadership opportunities, among other benefits.
Faculty
Full-time faculty members in the Computer Information Systems and Security (CISS) Department have extensive professional and academic experience. Most have doctoral degrees and/or professional certifications. Seasoned practitioners who teach selected courses complement full-time professors as adjunct faculty. View CISS Faculty .
Admission Requirements
Application and nonrefundable application fee
An undergraduate degree in cybersecurity or related technical discipline, or successful completion of the Foundation Course
An undergraduate GPA of at least 3.0 overall
Official transcripts from all regionally accredited colleges or universities attended; transcripts must include baccalaureate or higher (if applicable) degrees earned and date conferred
Résumé