Master of Social Work (MSW)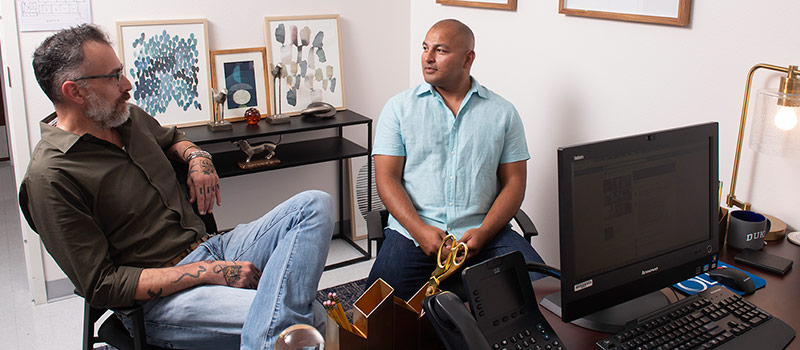 Get started on your Journey
Offered through the Worden School of Social Service, the Master of Social Work (MSW) degree program will prepare students to change the lives of children and families in need while building the foundation for their own career in social service leadership and advanced direct practice. Whether already working in the field or have a desire to join it, OLLU's MSW can help students achieve their goals of helping society and fighting for justice. The MSW program's concentration is social work practice with Hispanic children and families.
Program Design
The OLLU-RGV MSW program is a hybrid program with classes meeting during the evenings and online. This allows working adults the opportunity to balance work and family while still pursuing their degree. Options for full-time and part-time are available.
The program is also offered:
On the San Antonio campus - the OLLU social work program was started on the main campus more than 75 years ago.
Online - our online programs offer the same service-focused values of personal support and hands-on learning as our on-campus programs.
Program Offerings
Accreditation
OLLU's MSW program is accredited by the Council on Social Work Education's (CSWE) Commission on Accreditation. CSWE is recognized by the Council for Higher Education Accreditation as the sole accrediting agency for social work education in the United States.
Social Work Practice with Hispanic Children and Families
OLLU's MSW is one of only a few social work master's degree programs in the country with a practice concentration on Hispanic children and families. The Hispanic population is the fastest-growing demographic community nationwide, meaning social workers all over the U.S. can benefit from particular expertise and understanding of the issues facing the Hispanic community. Such an advantage can help social workers provide excellent service and position themselves for maximum success and leadership in their social work careers. The MSW from OLLU also focuses on social work across the life span, including service to elderly adults, who currently represent the largest single community of social service recipients.
MSW Program Goals
The goal of the MSW program is to prepare professionally trained social workers for specialized intervention in advanced social work direct practice with Hispanic/Latin@ children and families in a way that fosters commitment to culturally competent practice with diverse populations. To that end, the program focuses on ten learning outcomes for MSW students. Each social work student will:
Identify as a professional social worker and conduct yourself accordingly
Apply social work ethical principles to guide professional practice
Apply critical thinking to inform and communicate professional judgment
Engage diversity and differences in practice
Advance human rights and social and economic justice
Engage in research informed practice and practice informed research
Apply knowledge of human behavior and the social environment
Engage in policy practice to advance social and economic well-being and to deliver effective social work services
Respond to context that shape practice
Engage, assess, intervene, and evaluate with individuals, families, groups, organizations and communities.
MSW Foundation Assessment of Learning Outcomes
MSW Advanced Assessment of Learning Outcomes
Field Education
Field education is an integral part of the social work program at OLLU. The Worden School of Social Service has established partnerships with an extensive network of public and private social service agencies to provide students with a wide range of opportunities for internships. Worden's Field Education Office will assist students with securing appropriate field placements once the student has identified an eligible agency.
Visit the Worden School website for more Field Education information.
Admission Requirements