Marriage and Family Therapy (MFT)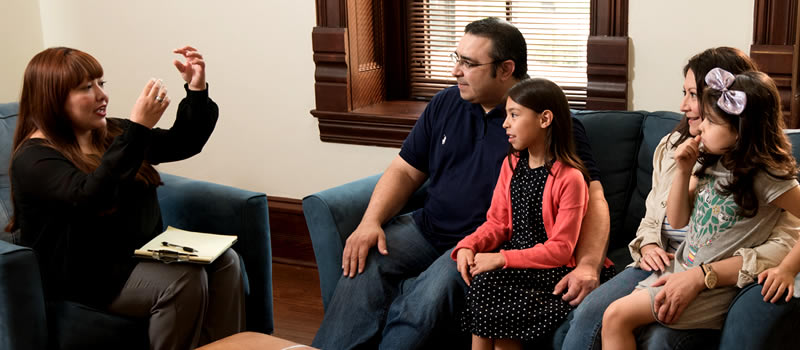 Get started on your Journey
The Master of Science degree in Psychology with a concentration in Marriage and Family Therapy (MFT) prepares practitioners to assist with mental health concerns in family and social contexts using relational strengths-based approaches to psychotherapy. In coursework and practice, students learn to work with clients from a wide variety of ethnic, economic, educational and religious backgrounds and develop proficiency in providing psychotherapy services to individuals, couples, families and groups.
Licensure
The program meets the academic requirements for licensure as a Marriage and Family Therapist (LMFT) through the Texas State Board of Examiners of Marriage and Family Therapists, and licensure as a Professional Counselor (LPC) through the Texas State Board of Examiners of Professional Counselors.
Program Design
Courses in the MFT program are offered in the evenings. The program brings together students from the San Antonio and Rio Grande Valley campuses through the use of technology to provide them with a collaborate learning experience. Students will attend courses synchronously via videoconference and work with colleagues from each campus on group assignments. This collaboration allows students to build their professional network.
The 60-credit hours program can be completed in two years for a student attending classes full time during the fall, spring and summer semesters.
Certificate Program
The Psychology Department offers the Psychological Services for Spanish Speaking Populations (PSSSP) certificate. The goal of the PSSSP certificate is to produce mental health practitioners who are equally competent to provide services in English and Spanish. Core courses are taught in Spanish or bilingually and students have the option of taking a language or cultural immersion course taught in a Spanish-speaking country. PSSSP students will also receive supervision in Spanish of their practicum work with Spanish speaking clients.
Degree Plans and Course Descriptions
Accreditation
The Master of Science in Psychology with a concentration in Marriage and Family Therapy has been accredited by the Commission on Accreditation for Marriage and Family Therapy Education (COAMFTE) of the American Association for Marriage and Family Therapy (AAMFT). The COAMFTE is responsible for establishing standards for competence in clinical education for the profession of marriage and family therapy, and for the review and recognition of programs successfully meeting these standards.
OLLU is one of only a few universities in Texas with a COAMFTE accredited master's program. COAMFTE accreditation also allows graduates to seek employment as Marriage and Family Therapists within the federal government.
Program Focus
Cultural Competence Focus
The MFT program's missions to prepare culturally competent professionals who are skilled in providing psychotherapeutic services to a diverse community and that have a deep and abiding respect for individual and cultural diversity, has long been one of its greatest strengths. A hallmark of our program is its emphasis on cultural as well as linguistic diversity. Our focus on cultural diversity evolved as a consequence of the university's location in a predominately low-income, Mexican American neighborhood, OLLU's status as a Hispanic Serving Institution, and the long-standing commitment by the program's faculty members to infuse this focus at all levels of the program.
Practitioner Focus
Faculty members focus on designing classroom experiences that are relevant to the practice of systemic psychotherapy. Students are required to apply their knowledge in several courses that have a practical component. Thus, many courses go beyond awareness and knowledge and focus on skill development. Students begin their practicum training after completing a minimum of 18 hours of specified courses. Full-time students generally begin practicum in the summer of their first year. This experience begins with clinical teams at the Psychology Department's training clinic, the Community Counseling Service (CCS). The team approach provides a supportive environment. Up to six students and a faculty supervisor meet weekly as a team to deliver psychotherapy services. After the first semester, and with the approval of their supervisors, students may complete a portion of their required practicum hours at approved off-campus sites. Students are required to obtain a minimum of 500 hours of supervised, direct delivery of services.
Students in the MFT concentration are taught a variety of theories and professional skills. However, the program emphasizes a particular set of systemic therapy models. These models are described in various ways, such as: Relational Strengths-based, Postmodern, and Social Constructionist. While there are variations among these collaborative models, all of them have in common:
An emphasis on each person's strengths, resources and unique perspectives.
An emphasis on a non-pathological view with skepticism regarding the usefulness of psychiatric diagnosis
An emphasis on collaborative practice in therapy
These Collaborative, Social Constructionist, and Competency-Based models include:
Solution-Focused Therapy
Narrative Therapy
MRI Strategic Family Therapy
Collaborative Therapy
These theoretical models are taught in our Systemic Approaches to Counseling courses, and strongly influence the perspective of many of our other courses.
In addition to these emphasized theories, students are provided a working knowledge of several other common and classical models of family and individual therapy and are taught necessary diagnostic skills to allow them to function as independent therapists.
Students are urged to become Student Affiliates of the American Association of Marriage and Family Therapy (AAMFT). Applications are available online at www.aamft.org.
Practicum
Marriage and Family Therapy students take four semesters of practicum, which consists of intensive training at on-campus and off-campus sites. Students at the Rio Grande Valley campus will begin their training on-campus. During the practicum, students participate on treatment teams under the supervision of licensed professionals and use video recording and live supervision to enhance feedback and client services. Students at off-campus practicum sites are supervised by OLLU faculty or qualified professionals.
Graduate Achievement Data
From the American Association for Marriage and Family Therapy website
The Commission on Accreditation for Marriage and Family Therapy Education is recognized by the Council for Higher Education Accreditation (CHEA). Consistent with the CHEA Recognition Standards, accreditation organizations must establish standards that require accredited programs "to provide quality and consistent information about academic quality and student achievement and thus to foster continuing public awareness, confidence, and investment." COAMFTE has established Accreditation Standards that require programs to report on student achievement. Additionally, COAMFTE collects student achievement data on graduation rates, exam pass rates, and licensure rates. Accredited programs are required to report student achievement criteria data on an annual basis.
Accredited programs report student achievement criteria data for each cohort in the program. A cohort is defined as the students who entered a program between a given time period (example: the students in the fall 2015-spring 2016 cohort, entered their respective programs between the fall of 2015 and spring of 2016).
Data for the Marriage and Family Therapy program shows in the 2023 Graduate Achievement Data for the Rio Grande Valley campus program document.